Fits hard and soft top
No cutting or drilling required. The kit is a complete bolt on using factory openings and hardware.
***If you will be using AUX switches, there is only (1) AUX power wire that is factory behind the visor. For single light bar color, it will be sufficient enough to use this (1) AUX switch. For dual function light bar, you will need to run your own power for the DRL function.   
Choose your light bar color:  
1) White LED --> 15,000lumens, bright and powerful. It will definitely provide you with enough light needed for all of your adventures. However, these are only for off-roading and can't be used on the regular road. They will blind the in-coming traffic and also violates road safety.
2) Amber LED --> 7,000 lumens, used in poor driving conditions such as dust, fog, snow and rain. It reflects through air particles much less than the white light. Therefore, making it ideal for poor driving conditions.
3) dual function: main White LED light with Amber DRL backglow --> the white LED light is same as described above, but the amber DRL "daytime running lights" acts purely for aesthetics. It doesn't give out much light, but more of a beautiful amber backglow. Something extra to make you stand out on the road.
Full in-depth video describing our lights bars CLICK HERE
(1) 40in light bar

(2) mounting brackets
All mounting hardware
M&R Automotive doesn't provide a wiring harness for this light bar kit. The light bar has 6ft of wire which is enough to reach AUX switches if your Bronco Raptor has them. Otherwise, you will need to purchase a generic wiring harness from Amazon/Ebay or create your own. Here is a link to an example:
INSTALLATION INSTRUCTIONS
This product has written instructions for download. You can also find video install instructions below.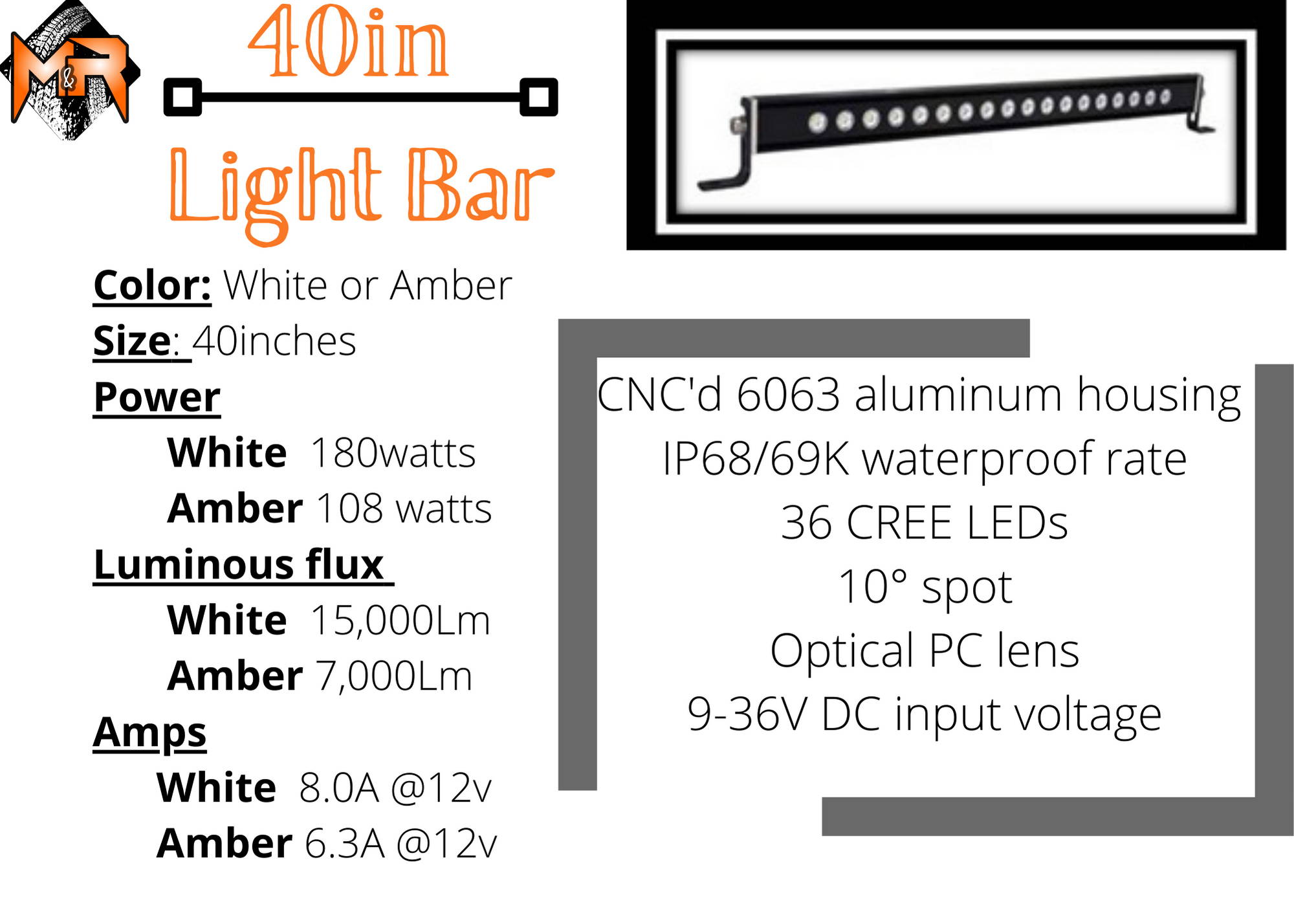 All domestic (USA) orders are free shipping via USPS or UPS, depending on product size.
We typically ship in 3-7 business days. If we are anticipating a delay with your shipment due to availability of the product, we will reach out to you via email.
Canada, international or express shipping costs are calculated at checkout.
You will receive an email with tracking number when your order is shipped.
If you have a special request about your order, reach out, we try to accommodate as much as we can.
We have a lifetime warranty on our light kits. We truly want our truck enthusiastic customers to enjoy their products as much as we enjoy designing them. However, we also understand that different situations arise with brackets or lights. For more information about our warranty and disclaimer click here.
*M&R Automotive is not responsible for misuse or improper installation of the product. Professional installation is recommended.