Extend the feeling of high performance in your 2021+ Ford Bronco by installing M&R LED Fog Light! 8x20w CREE LED kit including a crisp 16000 lumens white light and amber dual function DRL lighting. Installed neatly in the modular front bumper, providing a sleek uplift that gives your Ford Bronco already unique look. It definitely was designed to look OEM. Made with carefully selected materials, rated to last up to 100,000 hours! A IP68 waterproof build provides a robust durability capable of off-road use, to live up to your Bronco's high performance expectations.

This kit includes the Driver and Passenger sides (1 order per Bronco)
White LED lights with amber DRL to match the rest of the Bronco accent lighting

Metal bracket is powder coated and color matched with the factory Bronco bumper to give it a "built in look."

No cutting or drilling required. The kit is a complete bolt on using factory openings and hardware
Total kit has 160watts of power and is rated 16,000 lumens
This kit includes the Driver and Passenger sides
(8) 20watt light pods
(2) metal mounting brackets
(16) M4 bolts and washers
M&R Automotive provides you with a wiring harness to connect the fog light to AUX switches. If your Bronco does not have AUX switches, we recommend purchasing a generic wiring harness from Amazon/Ebay or create your own.

INSTALLATION INSTRUCTIONS
This product has written instructions for download. You can also find video install instructions below.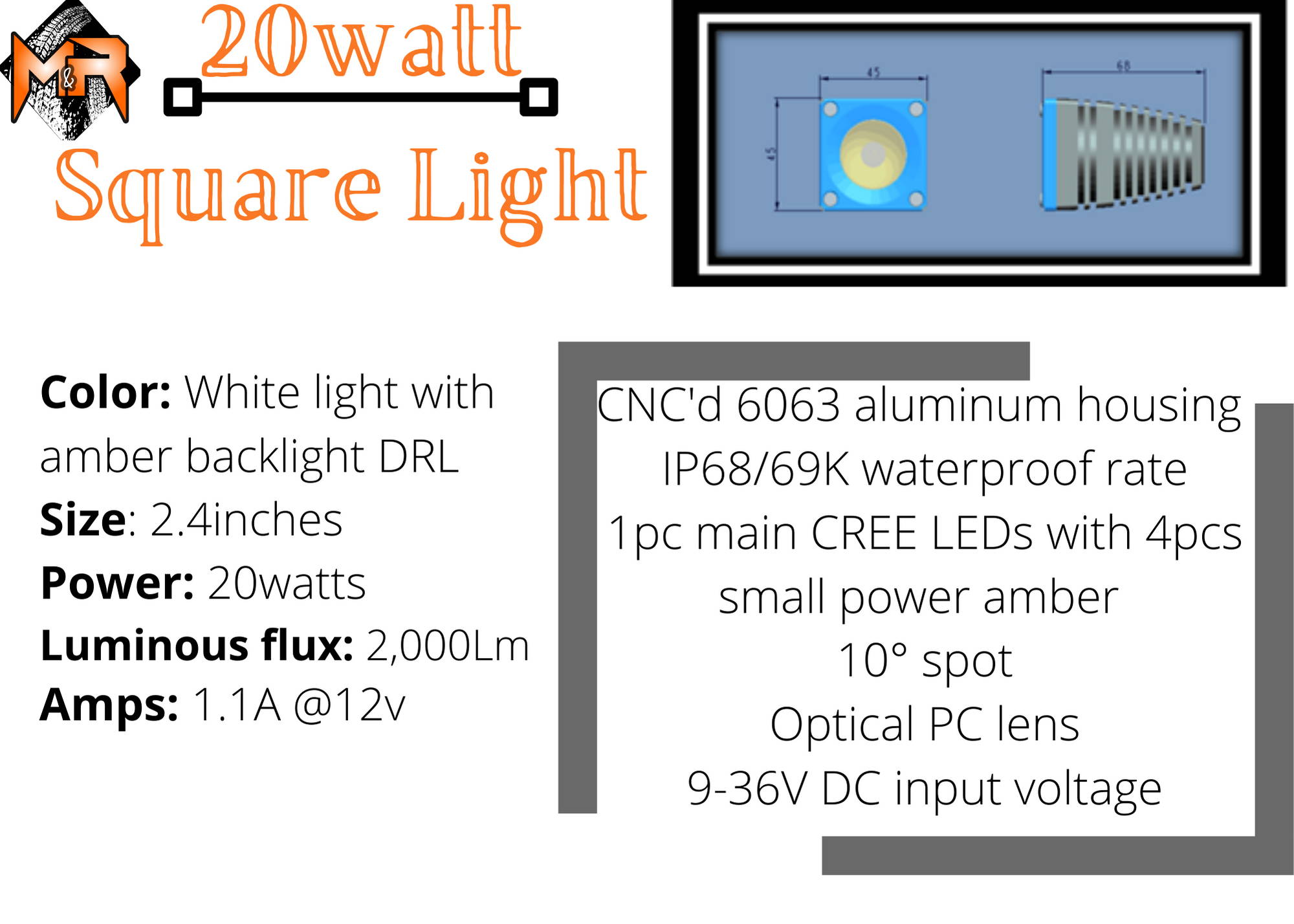 All domestic (USA) orders are free shipping via USPS or UPS, depending on product size.
We typically ship in 3-7 business days. If we are anticipating a delay with your shipment due to availability of the product, we will reach out to you via email.
Canada, international or express shipping costs are calculated at checkout.
You will receive an email with tracking number when your order is shipped.
If you have a special request about your order, reach out, we try to accommodate as much as we can.
We have a lifetime warranty on our light kits. We truly want our truck enthusiastic customers to enjoy their products as much as we enjoy designing them. However, we also understand that different situations arise with brackets or lights. For more information about our warranty and disclaimer click here.
*M&R Automotive is not responsible for misuse or improper installation of the product. Professional installation is recommended.
These look great easy to install and are way to bright for fog lights .. wouldn't trade them for ...
They should be under fog lights they are way too bright . But if you want to see what's in front of you they will
Cover that
Worth the price, time and effort
By far the nicest fog lights for a new bronco! Just installed them and they are the coolest. Run lights amber and white on switch number 1. Very bright!
10/10
Great Lights!
I'm super happy with the fit and look of this fog light kit. They were fairly easy to install with great step by steps instructions. The white LED's are amazingly bright and the DRL orange lighting makes the front end pop!
Perfect
The quality of the lights is terrific. Comes with complete directions and everything needed to do a clean installation. The lights look beautiful and the amber and white light work extremely well, could not be more please
Bronco Modular Bumper Lighting
Awesome set of lights! Love the Amber for daytime, and the white for fog lights or dark roads. I have the light bar as well, and the amber comes on with the amber fog lights. White on the light bar is awesome, very bright! Highly recommended. I had them professionally installed, but with my auxiliary switches it would have been fairly easy. Only used 3 of the auxiliary switches, the one is all lights Amber. Lots of compliments.