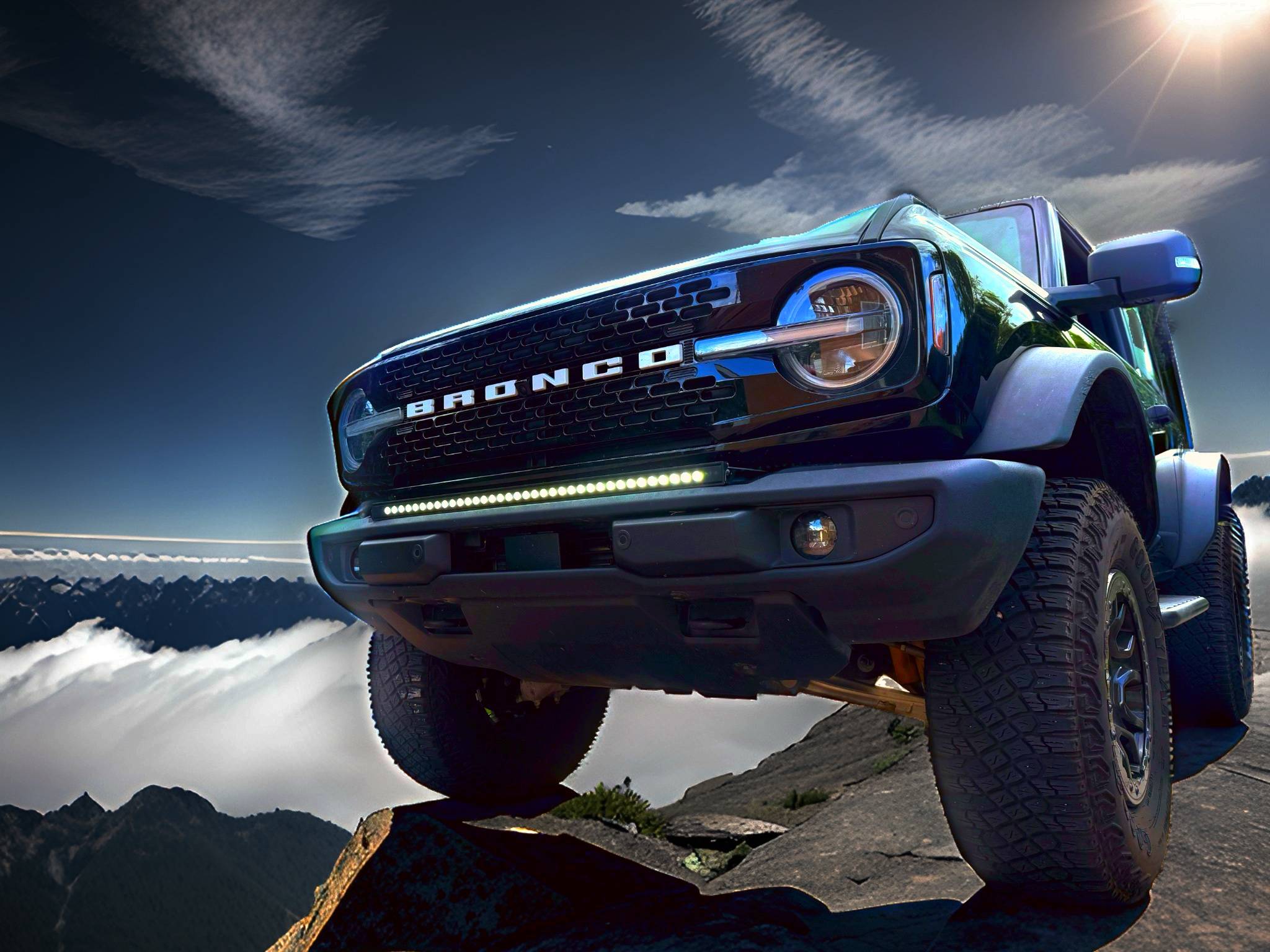 Standing on the edgE: FOrd bronco standard bumper light bar
If you're like us, you love hitting the off-road trails and taking your trusty Bronco to places where ordinary cars dare not venture. But sometimes, when the sun sets and the path ahead turns dim, you might find yourself wishing for a bit more illumination. That's where off-roading lights come into play, and today we're going to shine a light on how you can level up your Ford Bronco's off-roading game with a 40in light bar. Sits right on top of the bumper, giving your Bronco a sleek, but mighty look.
The 2021 Ford Bronco retained the classic boxy and rugged design that was a hallmark of the original Bronco. The straight lines and sharp angles gave it an adventurous and off-road-ready appearance. Designed with a removable roof and doors. It came in several configurations, including a soft-top, a hardtop, and a partially soft-top with removable side panels, providing open-air driving options. It was designed with modularity in mind. The roof panels, doors, and fenders could be removed or replaced easily, allowing you to customize your Bronco.
The Bronco's front end featured round headlights, reminiscent of the original Bronco's design. These headlights contributed to its retro look. any Bronco models had a spare tire mounted on the rear, not only adding to the rugged appearance but also providing a practical solution for carrying a spare tire on off-road journeys.
Inside, the Bronco's interior was designed for durability and practicality. It featured washable rubberized flooring for easy cleaning after muddy adventures. While the Bronco retained its classic styling, it also incorporated modern technology. It offered a touchscreen infotainment system, smartphone connectivity, and driver assistance features.
The design of the 2021 Ford Bronco successfully combined nostalgic elements with modern practicality, making it a versatile and attractive option for those seeking an adventure rid.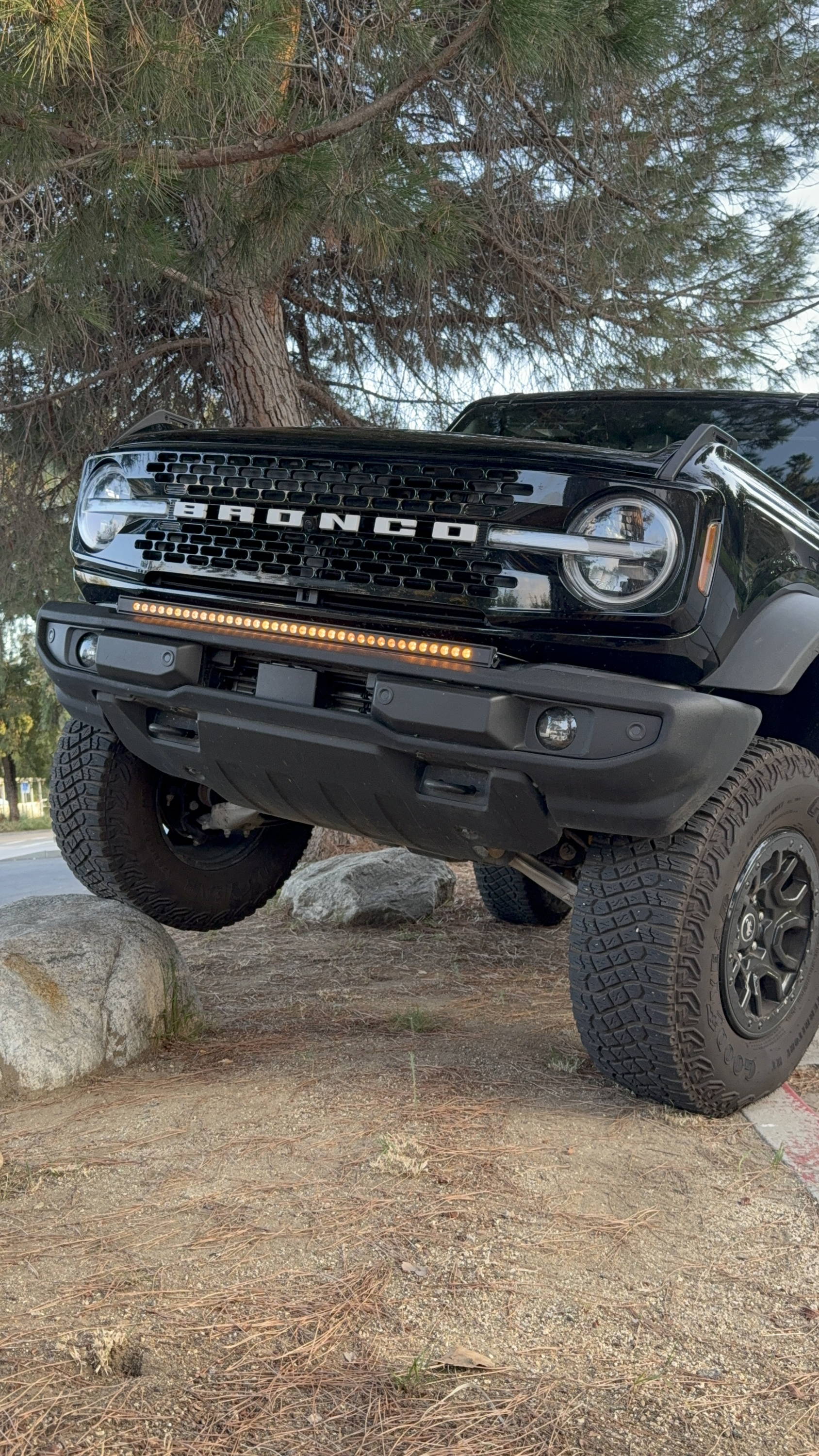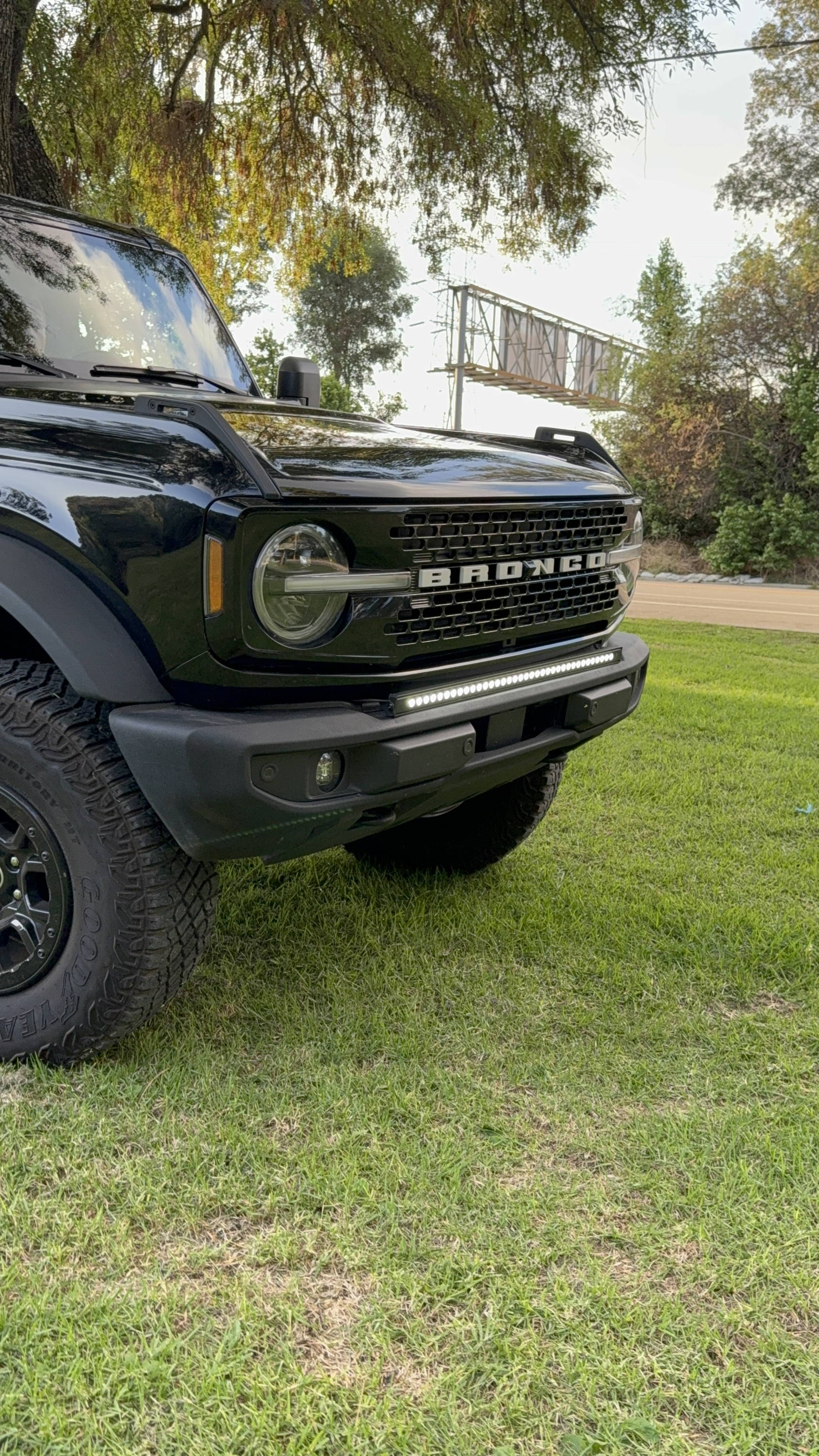 Safety first:

When you're off-roading in the wild, safety is paramount. Off-roading lights provide increased visibility, helping you spot obstacles, wildlife, or even unexpected turns in the trail. They make your adventures not only more enjoyable but also significantly safer.
Durability:
Our off-roading lights are built to withstand the toughest conditions. Whether you're dealing with mud, rain, or extreme temperatures, these lights are up for the challenge. With an IP69 rating, your lights are safe from any dust, sand, and water. You can count on them to endure your wildest adventures.
Rugged Bumper
Ford engineers have truly outdone themselves in creating a bumper that's ready to take on whatever Mother Nature throws at it. The standard bumper is the embodiment of that spirit. It's not just a mere add-on; it's a crucial component that enhances the Bronco's off-road capabilities and overall appeal. Adding our slim light bar, which is only 3/4in thick, fits in so perfectly right on top of the bumper. It's sleek, it's smooth, and definitely is an addition to the Bronco that you can't miss.
install of m&R led light bar
Would you believe it if I say "you can be done with all of it in 15-30 minutes." Yep, no joke. That's including using auxiliary switches for wiring which your Bronco should come with. If you don't have AUX switches, you will have to use a general wiring harness, better yet to buy a wireless which saves you time on drilling through the firewall for wiring.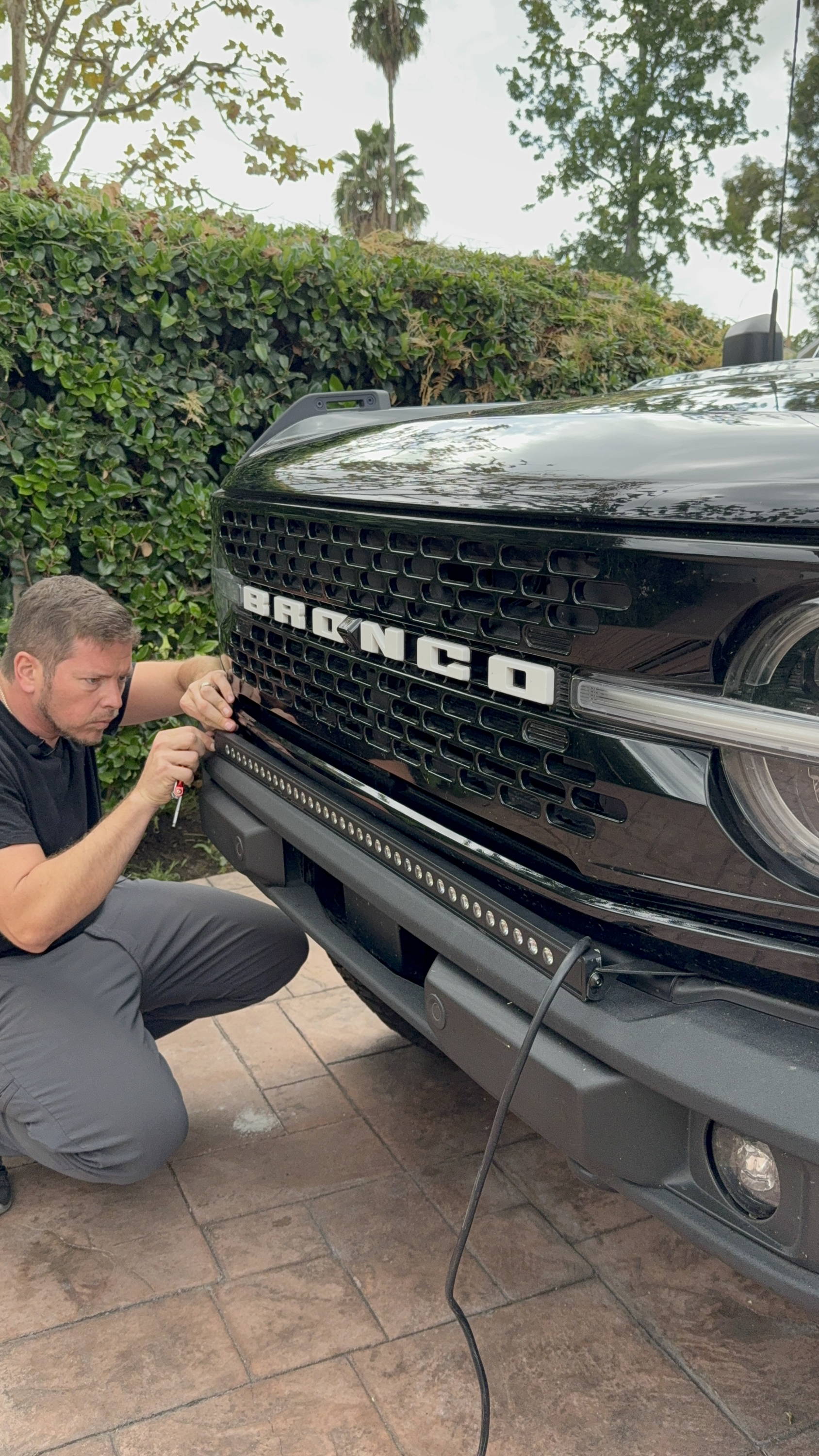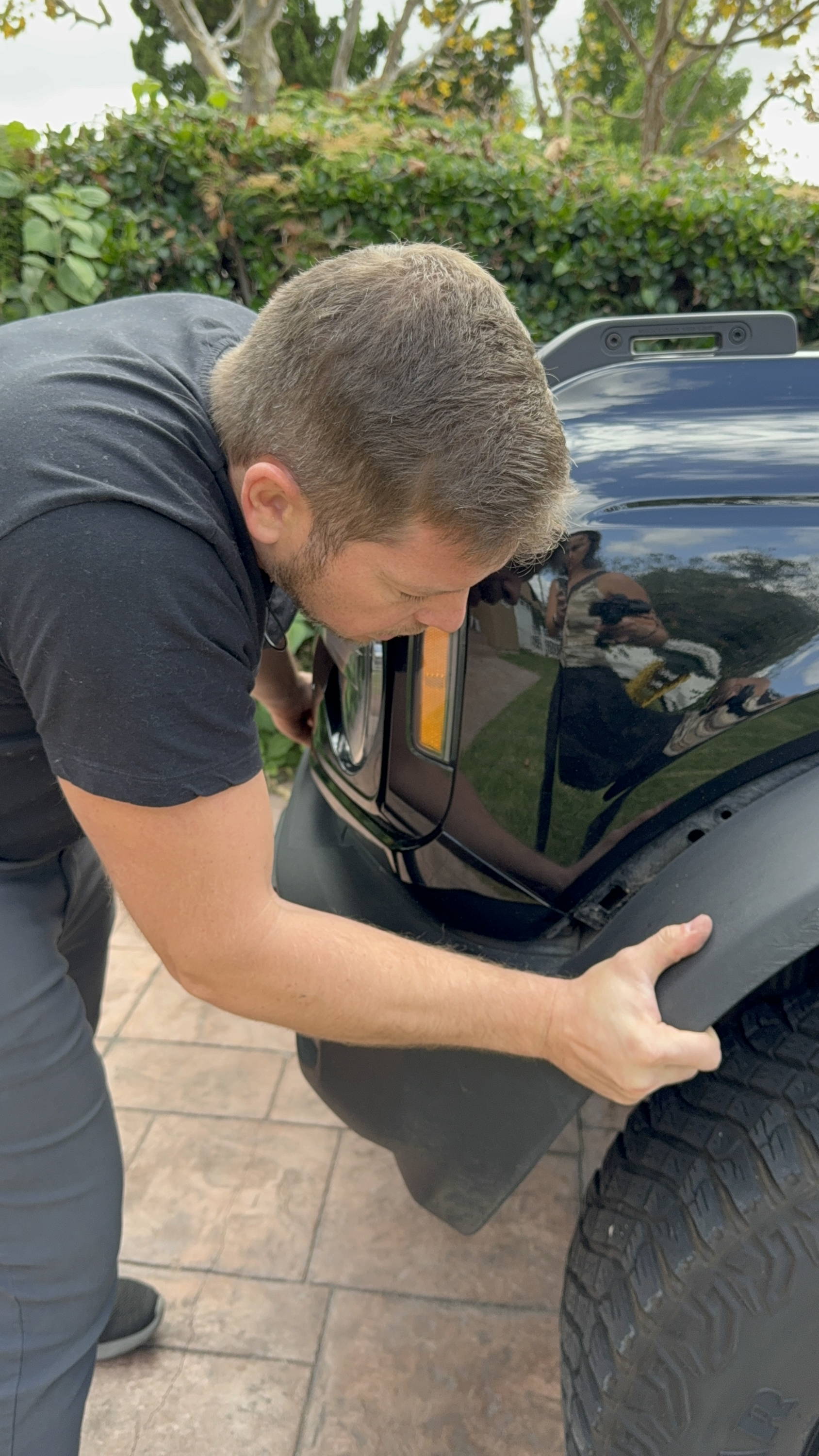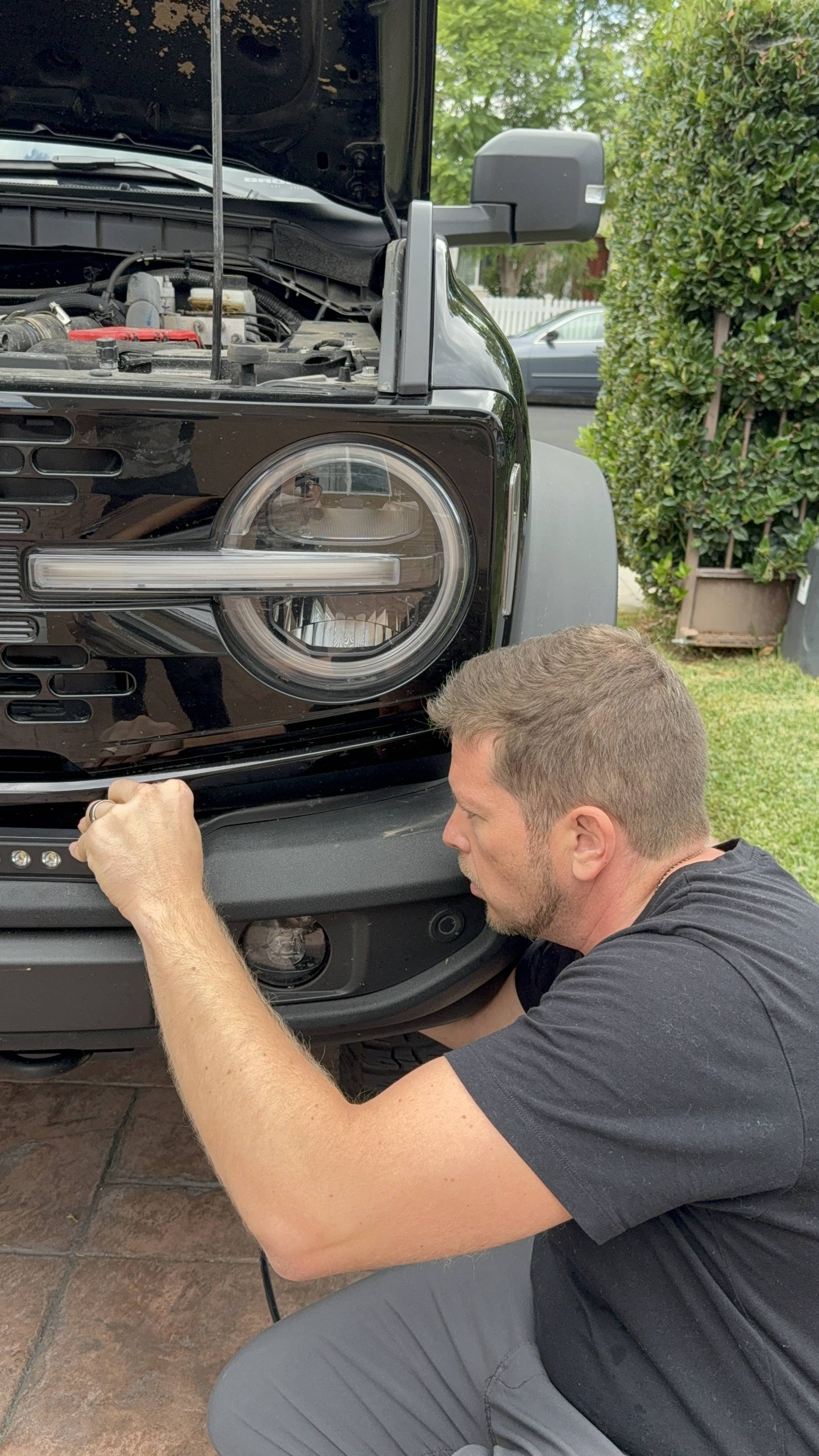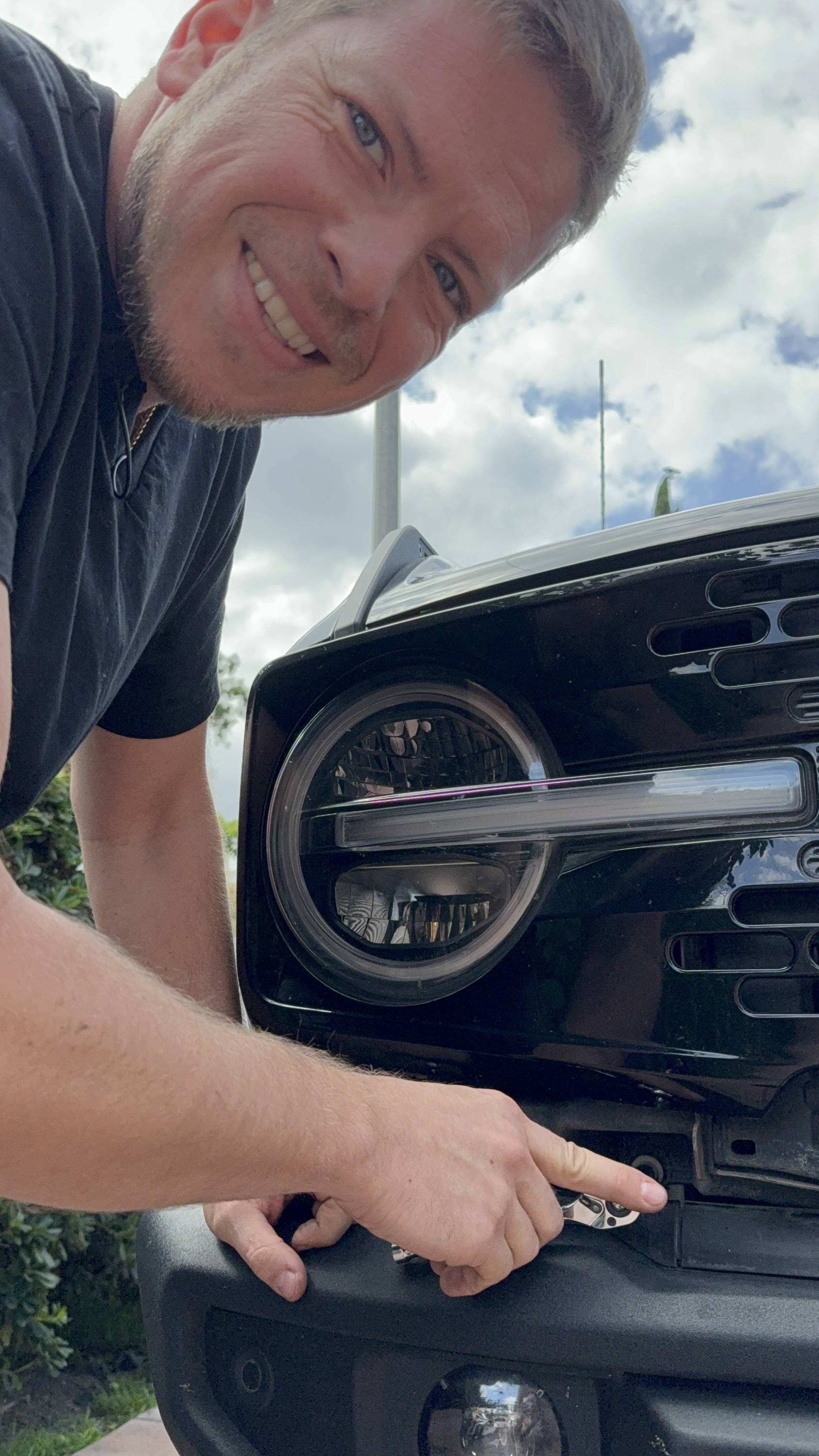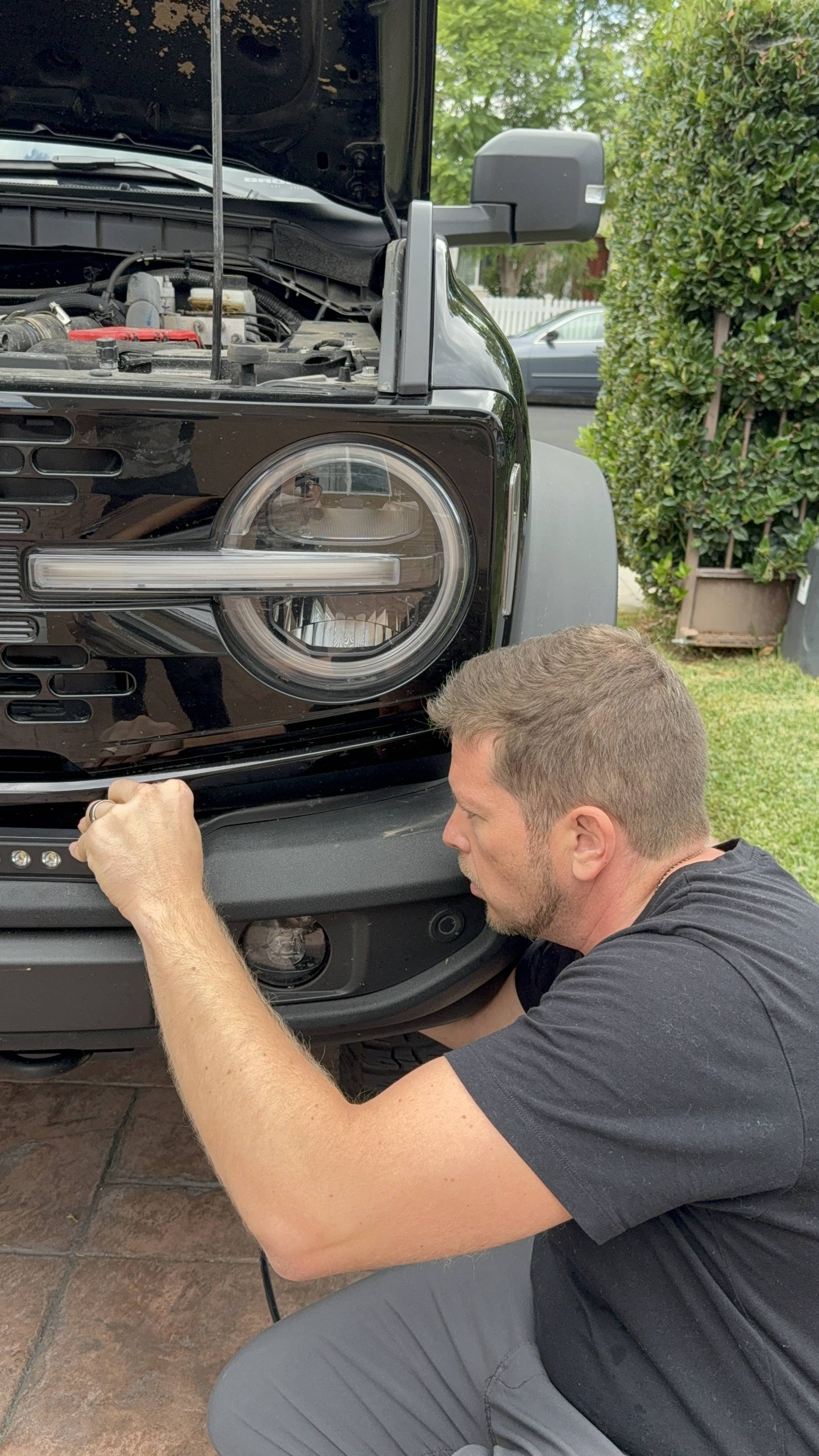 We went ahead and designed a metal bracket that fits 40in M&R Automotive light bar. Our LED light bars are very slim, only 3/4in thick. This gives us the ability to install them behind the grille without interfering with active shutters. They are powerful with up to 15,000 lumens each.
The LED light bar comes in single color: white or amber, OR dual color: main white with amber DRL backglow. If you are using AUX switches and buying the dual color light bar, you will have to use 2 AUX switches so the main white light can function separately of the amber DRL backglow.
You will not need to all of the grille, just the bottom trim level of it is enough. A few bolts here and a few clips there, you'll have it off in no time. The metal brackets are easy to install reusing factory bolts.
Check out the light output pictures below. First one represents factory headlights; you can't see the tree or very far past it. The second picture is with the light bar on. Can clearly see the tree as well as the depth into the forest behind the tree.